Today I decided to try "Time Trials" at Apex Movement NorCal (my home away from home). No what time trials is… well lets just take that blurble from the website itself.
You won't find mini tramps, salmon ladders, or rope swings in this class. This will be dedicated to pure Parkour applied to common shapes and obstacles you'll find in the real world.
Basically it is a class utilizing what you learned in class and applying it to mini obstacle courses meant to challenge your mind and body. I was the only one attending class today. This was the first time attending this class, but after the workout I had yesterday I felt like I should move a bit more so that I don't stiffen up (more on that later). We ran the course that Alan made for me and after a few runs we starting picking apart technique and ways to improve. Instead of merely vaulting over that box, maybe try this instead. Or try to lache across instead of doing monkey-bars. In the end my body couldn't handle it but we did get to learn more about what I thought was incapable and in reality it was my mind shutting myself down.
We worked on foot placement for rail balancing. I just recently got some barefoot shoes that I'm not comfortable with. almost about 75%. Then we practiced rail jumps because well frankly I should be able to do them.  I can broadjump pretty far and that is over the distance that I should be able to do rail to rail. We worked on them on the floor rather than at height because my mind is a dangerous thing.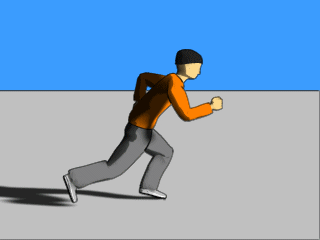 Then we went to my favorite. Kong Vaults. I when training for this, never liked it. My reasoning is because I have a substantial amount of power that I'm learning how to control. I'm also afraid to overshoot in case of injury. We tried a few and Alan watched my technique. He too saw my explosive leg power and we tried to create situations where I would get my muscle memory to act accordingly. After a few times I was satisfied enough with myself to try it without supervision. That was a bad mistake. So we placed to foam towers close to each other to stimulate a short distance I would need to vault over one, and still manage to have enough room to get over the other. I was able to do that. Then being over-confident but still weary, I was seeing how close the distance I could do. There is a skill called a double kong. I have not mastered it because I face planted into the second box having too much momentum and scorpion-ing a bit, hurting my thoracic area and pulling my the left  inside thigh muscles. So now I can't walk correctly.
In news of a more positive aspect. I tried to do our rope climb. The idea of this challenge is to start sitting on the floor and to climb up the rope as fast as you can, control decline, then go back up again. I beat my old time and managed around 18.6 seconds. I will need to try this again.
 Because of the workouts from yesterday and this morning, I thought (bad idea) to practice b-twist or butterfly twist. I can get the butterfly kick due to my practice with kung-fu. I mostly landed this one, at least from what my friend was watching. Still, I'm injured so the smart thing would be to lie down and rest. Which I am going to do after this post. Thanks for the follows! I hope I can recover soon! Til the next time!